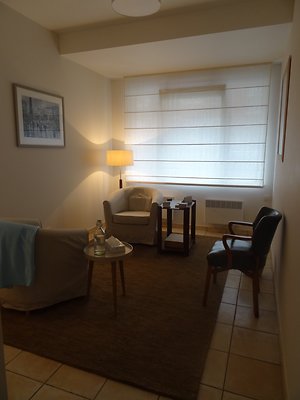 About Psychotherapy
When the issues you face are not new to you, you have been there before, the struggle or difficulty you face is familiar, psychotherapy can be useful. If a problem or a particular way of being, of leading your life, has been with you for some time, then it is likely that it will also take some time to understand the causes - and, if desired, for you to change what seems not to be working for you.
My view of psychotherapy is that by exploring and expressing your views, you become increasingly aware of how you are in your life, and how that came to be. Some of this you may be conscious of, some of it will probably be unconscious. As your awareness increases, so do your options of how you want to be. It is the possibility of options (as opposed to feeling you've always been like this and always will) which can bring about change. My primary focus is working in depth with people. I believe that this depth helps us to find the causes for the difficulties you face, uncovering other options and offering the possibility of change. As a psychotherapist, I have been specifically trained in creating a safe, long-term space where deeper issues can be explored and understood.
About Counselling
You may, however, be experiencing an issue which troubles you deeply but is not something that has been with you for a long period of time - it feels more current. If this is the case, working shorter term for a fixed number of sessions (typically 10-15) may be more appropriate. Here our focus is more on clarifying the particular issue you face, finding possible ways forward and reducing stress associated with the particular problem.
You may decide, after a set number of sessions, that things are more settled and that you are more able to face your situation. You may also see that the difficulty is more persistent than you first thought, and that you would like to continue in longer-term psychotherapy. In both scenarios, my therapeutic aim (supported by my ethical stance and professional training) is to help you in deciding what is most appropriate and useful to you at this point in your life.
Update January 2022 - Thank you for your interest in my website. I will no longer be working in person in Brussels from the end of March 2022
Registered member of the United Kingdom Council for Psychotherapy (UKCP) Registration number: 2011163234
Accredited by the European Associaton for Psychotherapy (EAP)
Graduate member of Metanoia Institute, London
MSc.(Psych) Transactional Analysis Psychotherapy, Middlesex University, MA (Oxon)
Member, International Association for Relational Transactional Analysis (IARTA)
Member, Belgian Association for Transactional Analysis, Assobat
Location: 1200 Woluwe St Lambert - close to central Brussels/Schuman, Mérode, Montgomery, Etterbeek, Kraainem, Tervuren, and the eastern Brussels areas.